ULP S2 Spectra sensor
Part Number ULP-S2-WBI/V
The S2 Spectra Sensor tests a wide range of LED intensity and any colour in the visual spectrum - including white. This Universal Light Probe is well suited for the test of boundary colour LEDs as they allow the user to set their own PASS & FAIL limits for colour. 
Universal LightProbe S2 Spectra Sensors test any LED color wavelength from 400 to 700 nm, and also white, providing an analog voltage output  proportional to LED wavelength. There is no need to convert LED wavelength as a pulse rate – which improves the overall response time to test an LED.
Charactertistics
Response time <10mS capute time; <100mS overall response time for colour and intensity simultaneously
Output loads: 'Int & Colour' - 2Kohms min., 100pF, max.
Colour Response
Test any LED colour wavelength from 400 to 700nm, including white
Unambiguous and stable analog voltage output proportional to LED wavelength
LED wavelength = [1000(Vout +4)nm]
For white, the voltage output is 3.5 volts
Enables user to set PASS/FAIL limits
Colour output is independent of LED wavelength as a pulse rate
Improves the overall response time to test and LED
Intensity Response
Analog output rangind from 0 to 4 volts
Corresponds to LED's luminous intensity in millicandelas 
C.I.E. photopic-curve-corrected
Tests LEDs from 1 mcd to 20,000 mcd
High and Low Sensitivity Options
The sensor is available in low and very low sensitivity options for extremely bright LEDs.
A high sensitivity option for very dim LEDs is also available.
Read-out <50mV indicates under ranging (LED is too dim) therefore please use part ULP-S2-WBI/V-HS (high sensitivity sensor)
Read-out <4 volts indicates over ranging (LED is too bright) therefore please use part ULP-S2-WBI/V-LS (low sensitivity sensor)
Intensity response depends on the size of the LED, the aperture of the fiber optic probe and the distance between the probe tip and the LED emitter. For detailed application notes, please contact us.
Image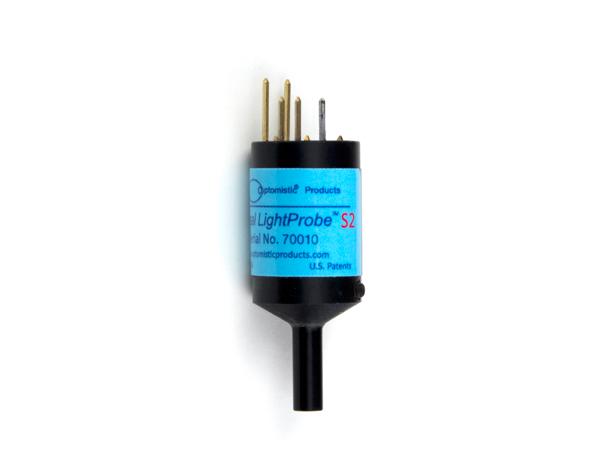 Image