Suitable Applications:
Mobile process data acquisition devices
Medical devices
Military devices
PCB technology
Mobile communication
Audio-video applications
Data acquisition devices
Automotive equipment
Heating control units
Battery-charging contacts or even interface contacts create an electrical contact between two components. They are used wherever it is necessary to charge the rechargeable batteries in mobile devices such as scanners, card readers, communication equipment, etc.
The special design of the test probes which are used here adapts perfectly to an extremely wide range of contact situations. The probes guarantee a clean connection on almost all surfaces, including with ambient conditions in which oscillations and vibrations could affect the contacting. Irrespective of the specified installation height of the interface pin blocks, the test probes compensate for unevenness and differing heights on the contact surfaces. These features ensure a perfect and safe electrical contact. When positioned in the right place and used correctly, the interface pin blocks can achieve up to 1 million contact cycles.
Typical applications for the interface blocks include internal battery connections in mobile devices or external connections needed for charging, for example in docking stations. They can be used for the secure connection of two PCBs which, by means of flexible contacting technology, can be connected and disconnected as often as required. This especially flexible connection of the interface pin blocks requires only a contact surface which is larger than the diameter of the probe head, so it offers considerable advantages when compared with connectors, which always require a precise connection. Additional arguments in favour of the use of interface pin blocks include the absence of insertion and withdrawal forces, and minimal wear and tear.
The blocks are available with a spring loaded probe version (part number PIB696) or a interface pad contact version (part number IB696) with single and double row arrangements. 
Image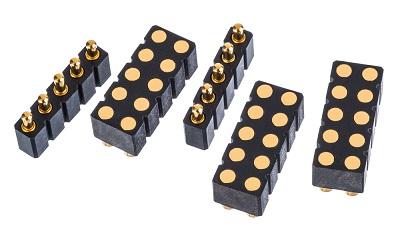 Image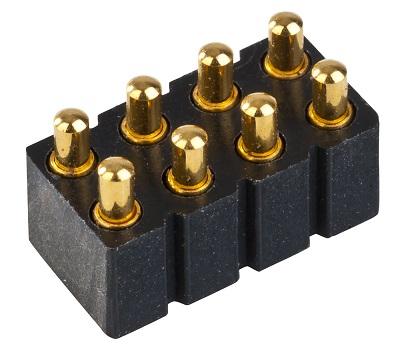 Image