ULP S2 Penta Sensor
Part Number ULP-S2-PCI/V
The S2 Penta Sensor is a best selling product that provides analog voltage outputs for both colour and intensity. It features built in colour binning, eliminating the need to convert LED wavelength to visual colour in the ATE software which saves valuable time. 
Characteristics
Response time <10mS capture time; <100mS overall response time for colour and intensity simultaneously
Output loads: 'Int. & colour' - 2Kohms min., 100pF, max.
Colour Response
Tests for the five main LED colours, plus white
Unambiguous and stable analog voltage output
Colour output is independent of LED intensity

​Blue: 1.0 volts
Green: 1.5 volts
Yellow/Amber: 2.0 volts
Orange: 2.5 volts
Red: 3.0 volts
White: 3.5 volts
Intensity Response
Analog output ranging from 0 to 4 volts
Corresponds to LED's luminous intensity in millicandelas
C.I.E photopic-curve-corrected
Tests LEDs from 1 mcd to 20,000 mcd
High and Low Sensitivity options
This sensor is available in low and very low sensitivity options for extremely bright LEDs.
A high sensitivity option for very dim LEDs is also available.
Read-out <50mV indicates under ranging (LED is too dim) therefore please use part ULP-S2-PCI/V-HS (high sensitivity sensor)
Read-out <4 volts indicates over ranging (LED is too bright) therefore please use part ULP-S2-PCI/V-LS (low sensitivity sensor)
Intensity response depends on the size of the LED, the aperture of the fiber optic probe and the distance between the probe tip and the LED emitter. For detailed application notes, please contact us.
Image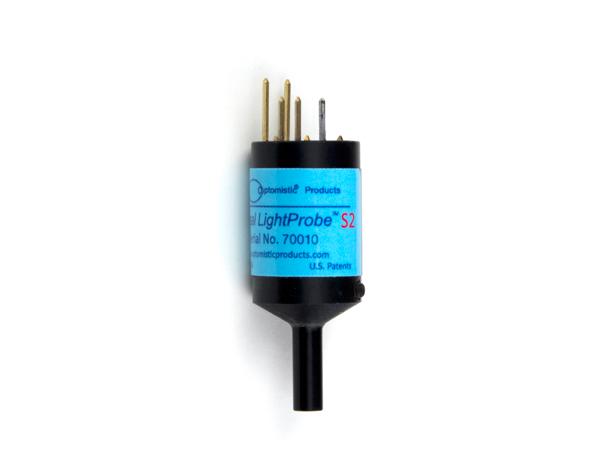 Image