Meet the V-One PCB printer from Voltera. Founded in 2013, Voltera is a scaling technology company that has been driving change in the additive electronics industry. They make benchtop electronics printers that enable rapid iteration and spark innovation around the globe. 
The V-One prints double sided PCBs, dispenses solder paste, and will help you explore new materials and substrates. 
It is a multi-functional circuit printer, optimizing R&D productivity at your desk. 
The V-One's unique magnetic attachments makes tool changing a breeze. Use the drilling attachment to quickly make vias and through holes in your double sided boards.
Print your own circuit boards - On your desktop and on your schedule, the Voltera V-One gets you from prototype to production faster than ever before. Create two layer circuit boards on your desk. Load your Gerber files and watch the dispenser lay down a silver-based conductive ink to print your circuit right before your eyes.
Skip the soldering iron - Focus on designing, not soldering. Regardless if your boards come from a factory, or from your desk - just mount them on the V-One and off you go.Say goodbye to stencils and cut your assembly time in half. Assembling boards is easy.
Software you will love - Voltera's software is designed to be understood. From importing your Gerber files to the moment you press print, the software walks you through each step with built in videos and tutorials. Compatible with EAGLE, Altium, KiCad, Mentor Graphics, Cadence, DipTrace and Upverter. If your CAD tool is not on this list then please contact us.
Double sided boards just got easier - Automate your PCB drilling with the V-One Drill attachment. 
If you would like a sample of a printed board using the V-One, please request one here
Image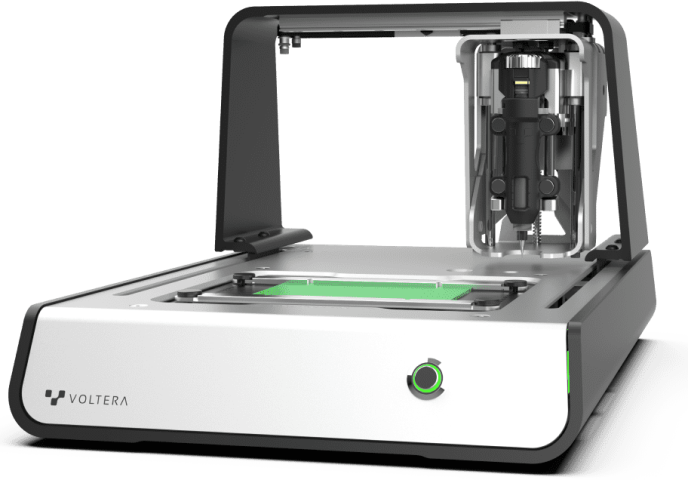 Image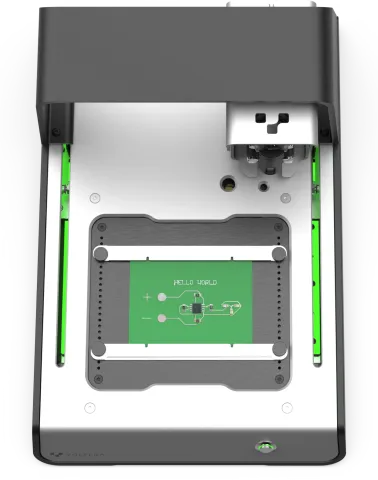 Ready to choose?
Voltera Products
Image